A Pink Crochet Cellphone Case
Hi guys! Philippines is in a Back-to-school mode this June and everyone's busy about it that I also lost the time to blog about my recent projects.
Last week, I was rummaging my crochet box when I found a small ball of pink crochet thread. I thought I should make something out of it. Then, it came to me...since the school year's ought to begin why don't I make something for my sister who's gonna be a freshman college this year.
The bright idea crossed my mind...
Make a cute crochet phone case for her new phone.

THIS PROJECT WAS FEATURED AT PIN IT MONDAY by PURSUIT OF FUNCTIONAL HOME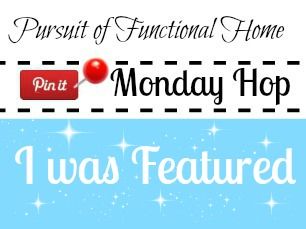 After a few hours, I finally finished the crochet cellphone case. Haha! The color is so girly!
To add a little quirky touch to it, I decided to put a flower applique.
But what flower do I choose?
This three-layered pink flower?
The violet one?
How about this small 5 petal flower?
Can't decide what to use...I think they all went well with the pink case.
Finally, I opted the small one 'coz it's not the attention-getting-flower and it looks cute on the piece.
What do you think about my little gift? A Pink Crochet Cellphone Case to welcome her to College life.
I hope she likes it.
Do you want the pattern of this crochet phone case? Check my previous post:
If you like this Pattern, please leave a comment below. Follow me on Facebook, Twitter, Pinterest and be my GFC follower.

See these parties: